IN MEMORIUM
---
This web site is maintained in memory of John R. Mika.
The Lakewood Branch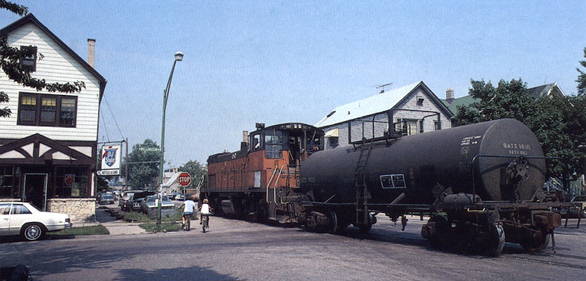 Photo by Mike Chmielewski; used by permission of "The Milwaukee Railroader"
The Lakewood Branch on Chicago's north side features a four-block stretch from Fullerton to Diversey with some of the last remaining STREET RAILROAD TRACKAGE in the city. This half-mile section of track, serving a single customer, is nearly all that remains from the extensive Chicago & Evanston Railroad (C&E) line that ran from downtown Chicago north to Evanston, including street running to Addison Street (I can still recall seeing boxcars on a spur next to Wrigley Field!).
All content (except as noted) Copyright © 2000 J. Mika. All Rights Reserved.
Map Copyright © 1999 Vicinity Corporation. All Rights Reserved. Used by agreement for non-commercial use.
Questions? Please contact Thomas Mann.