North Branch Street
Text and photos (taken in 1988-1991) by Tom Burke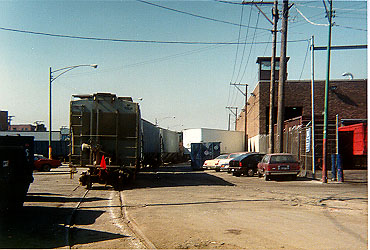 This rare picture from 1988 shows a boxcar just spotted in the Midwest Industrial Metals spur (right) as the CP Rail train begins to return from switching on Goose Island with a load of empties in tow from Akzo Salt, its job done for the day. On the way back it may pick up empty tank cars set out from the National By-Products plant on Goose Island which rendered animal parts, or empty boxcars from the team track on Division Street. Today, Midwest Metals is closed and the Division team track and ramp alongside it are gone, while the National By-Products building is now a vandalized hulk. This scene took place on North Branch Street between the Ogden Avenue overpass and Division Street and looks north.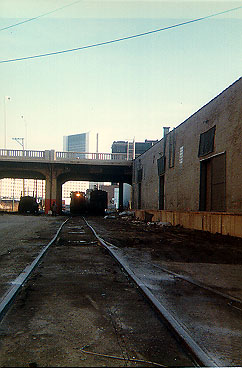 A CP Rail train returns with empty hoppers from Akzo Salt late on a January afternoon in 1990, passing under the closed Ogden Avenue overpass along North Branch Street. This shot shows the terrible shape of the roadbed on the track to Akzo just prior to its rebuilding. Note the lack of ballast or paving around the tracks where North Branch basically was paved in dirt at this time. Prior to the late 1980s this track saw very little action, perhaps one car a year to keep it open, according to the train crew. Siltation on the Chicago River forced International Salt, and later Akzo, to shift to railcars from ships for incoming salt deliveries during this timeframe.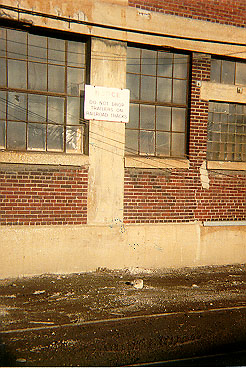 Sign on this North Branch Street building between Akzo Salt and Midwest Industrial Metals warns "NOTICE: DO NOT DROP TRAILERS ON RAILROAD TRACKS." CP Rail and prior to that, Milwaukee Road trains had to make a tricky backup move to locate cars in the Midwest Industrial Metals spur just to the left of this picture on North Branch just north of the Ogden Avenue overpass on Goose Island. By 1999 this sign lost its meaning as active freight operations retreated further north to Big Bay Lumber and truck trailers now park across the tracks without any interference from trains. This photo dates from January 1990.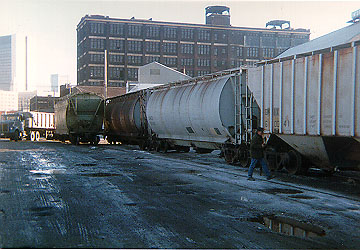 This busy shot from January 1990 looks east and again shows the poor condition of the tracks in North Branch Street that ran to Akzo Salt just prior to reconstruction. Business is strong at this time for CP Rail at Akzo Salt as evidenced by the multiple covered hoppers with inbound salt loads. Compare this "before" shot to the next photo taken 18 months later...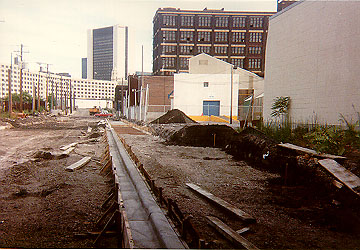 Rebuilding the spur to Akzo Salt in the summer of 1991 along North Branch Street just west of Halsted Street. Akzo was the most remote CP Rail customer on Goose Island at this time.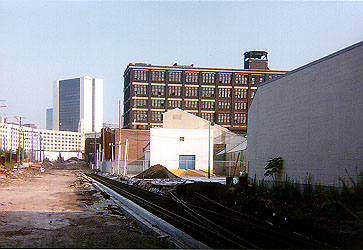 Another shot of the track rebuilding a few weeks later with more trackwork and a switch in place. In the background is Halsted Street, the Chicago River, and the Montgomery Ward headquarters and warehouse complex detailed in Bill Denton's N-scale Kingsbury Branch layout.
For more articles written by Tom on this rail operation, please refer to the following:
"Milwaukee Road Knocking at Chicago's Back Door"; Tom Burke; The Milwaukee Railroader, Third Quarter 1995.
All photos, Copyright © 1999 Tom Burke. All Rights Reserved.
Return to Lakewood Branch Home Page